Some Shorks are smart enough to understand that their civilization is merely a tool, a toy in Seit hands. Still, Shorks are a primitive race, and they either rebel and get killed or run away and become pirates. Shork boatswains` access to Seit technologies is severely limited: they only get what they manage to steal while fleeing.
This multi-part resin kit contains the components to assemble one Free pose Shork Boatswain – Pirates Bands. Free pose miniatures are the new word in wargame modeling and provide you with a real opportunity to customize your army in your own unique way.
Main types of Shork Boatswain weapons: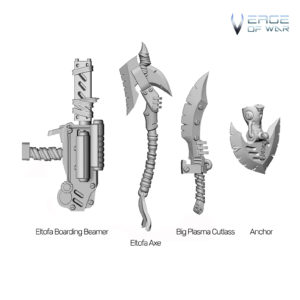 1.Elfota Axe – Heavy and made from the unique Eltofian metal that can cut through armor, this axe is one of the favorites for the Shork Boatswains.
2. Boarding beamer – Once free from Seit mind control the Shorks want to shoot like the rest of the team, but since the accuracy of the Shork is low the Rungar mechanics adapted the Kija beamer to work as a shotgun. The Boatswains just need to point the Beamer in the general direction of the enemy and pull the trigger.
3. Plasma cutlass – "The captain has a fancy sword so I want to have the fancy sword to, but it must be bigger, you got that?"(c) The first boatswain to wield the plasma cutlass.
4. "Anchor" – Rungar who created it called it "The mass infantry destruction device 3000" but for pirates, this was a too difficult name to remember so they just called it "Anchor" because of its weight and form.
The model height is 60 mm.
All miniatures are supplied unpainted and will require assembly.