You get a 8 FREE-POSE miniatures 60-70mm.
Models will come in high-quality resin.
Humans: 2 Free pose Noble House Knight
This multi-part resin kit contains the components to assemble one Humans: Free pose Knight. Free pose miniatures is the new word in wargame modeling, and provides you with real opportunity to customize your army in your own unique way.
This set contains 77 details and allows you to create a unique posed Human Knight miniature. Set includes 7 weapon options and 7 tabard options and supplied with a 60mm resin base. The set includes a wide variety of weapon options, both melee and ranged: from poleaxe to two-handed sword, from machine gun to heavy rail cannon. All these weapons allow the "Knight" to perform various tasks on the battlefield. The height of the miniatures is 70mm
Main types of Knight weapons:
1. Plasma Sword – is a convenient and practical weapon that allows the owner to use fencing techniques. It is often used by knights to fight each other during tournaments. Status weapon that allows you to use fencing techniques. Powerful but not armor-piercing weapon, which is often used in collisions with other knights when it is necessary to stop the enemy in a mighty armor suit, but not to kill him.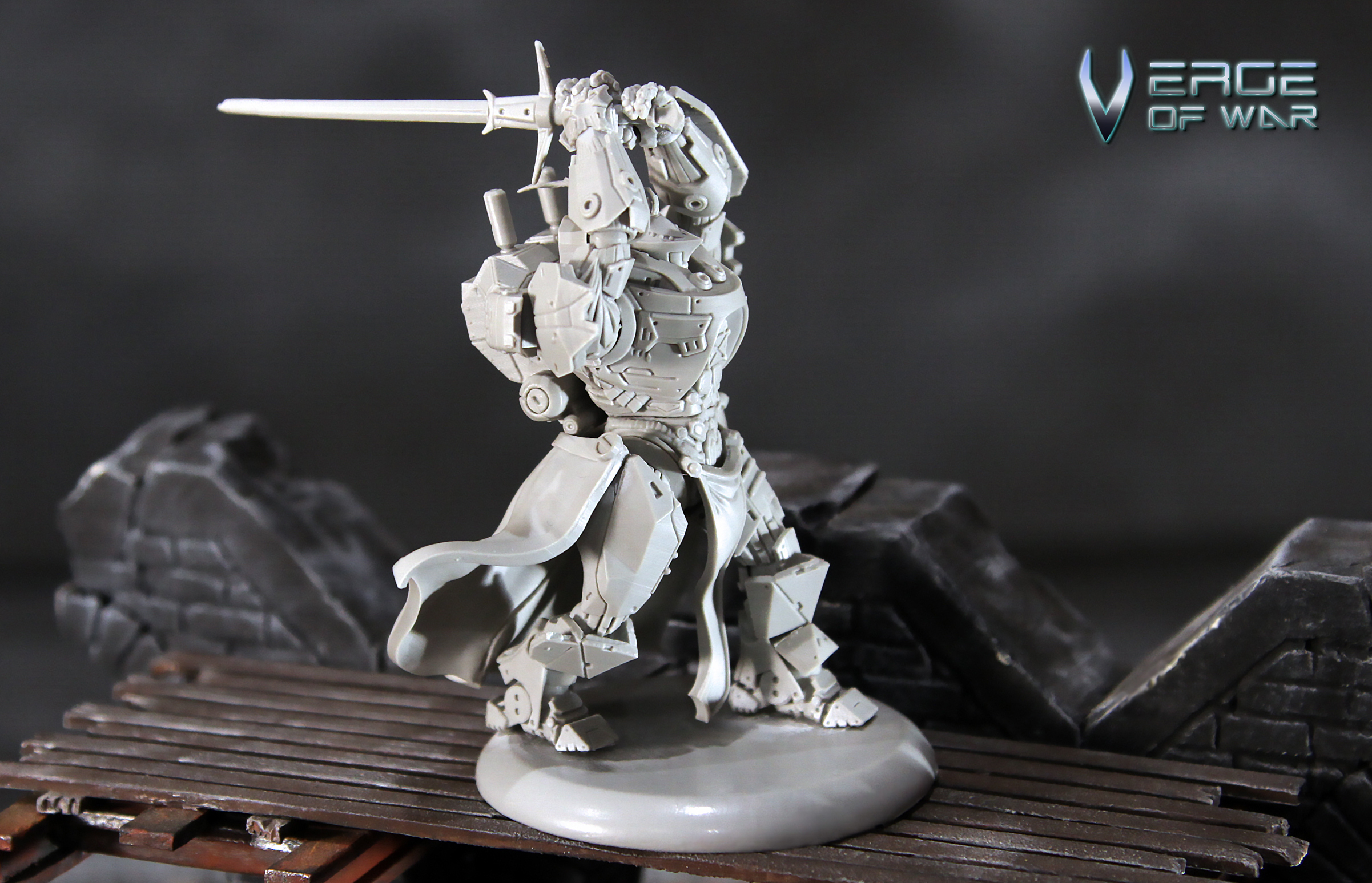 2. Plasma poleaxe – Iconic weapons of knights came to us from the Middle Ages. The large size of the weapon made it possible to hide powerful generators in it, and the design made it possible to build a powerful armor-piercing weapon which for many years became the main tool of knight's battle on the narrow corridors of the space station and during assault operations.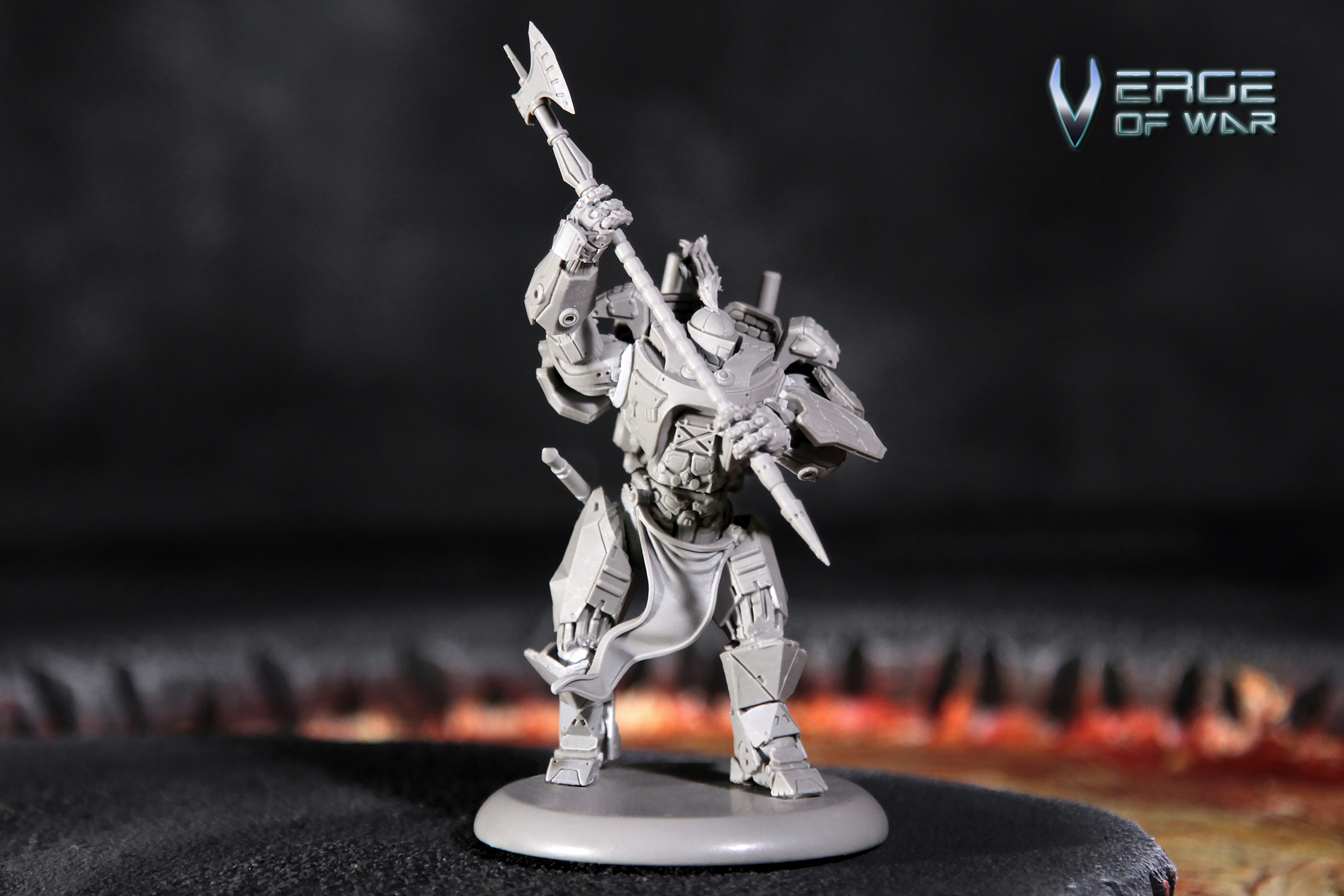 3. Rail Cannon – Sir Reginald of Alois once said: "Glory is gained on the battlefield when your enemy is defeated. So why stick your neck out if you can rip the enemy into pieces with one shot?" Hound tank's rail cannon in the hands of a knight illustrates this statement perfectly.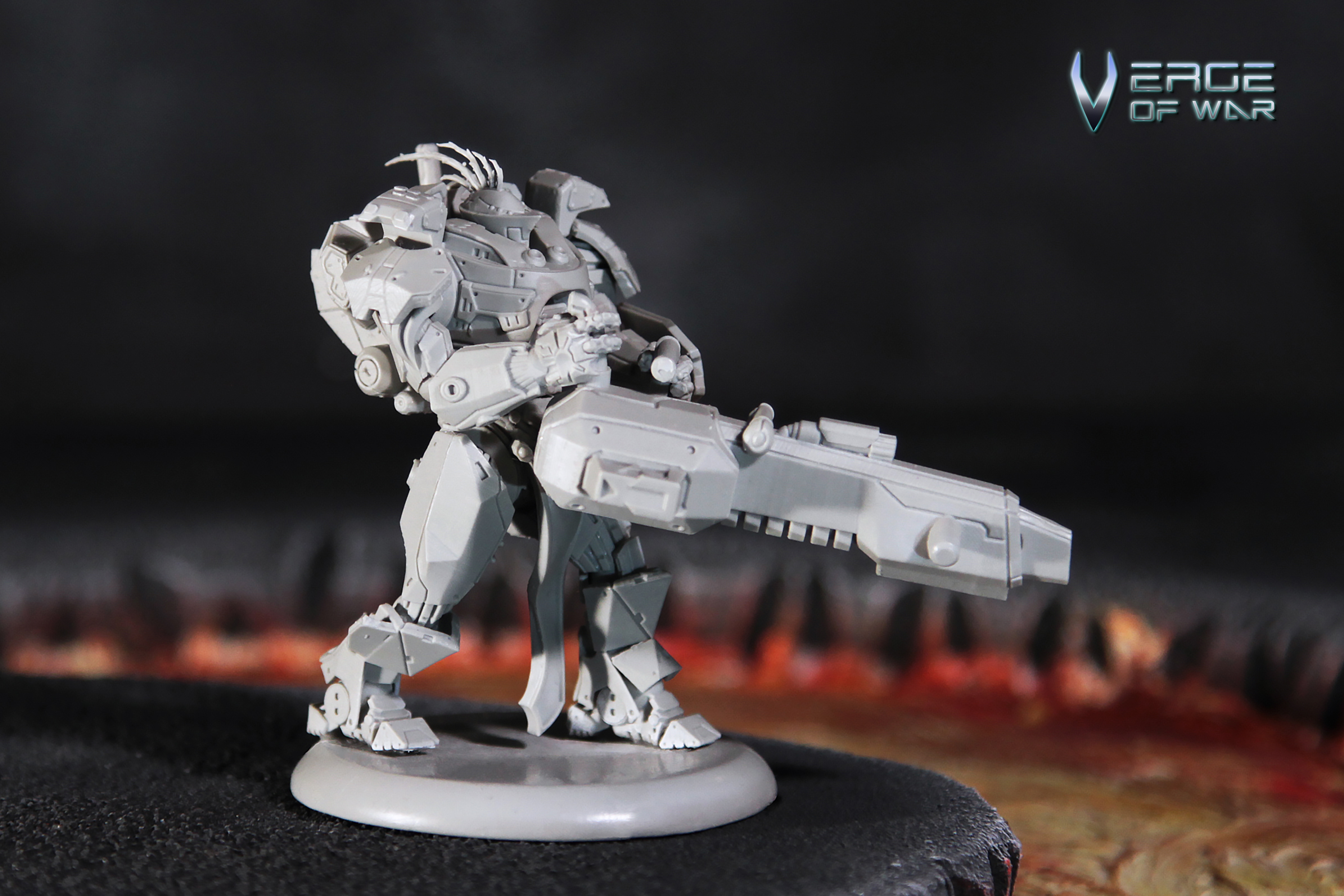 4. Knight's heavy beamer – is a weapon that is used against light and maneuverable targets. Its rate of fire and armor-piercing capability allow knights to destroy or cripple anything or anyone who does not want to engage them in close combat. The weapon is relatively light, so it can be operated with one hand, leaving the other one free for use of any melee weapons except for the heaviest ones.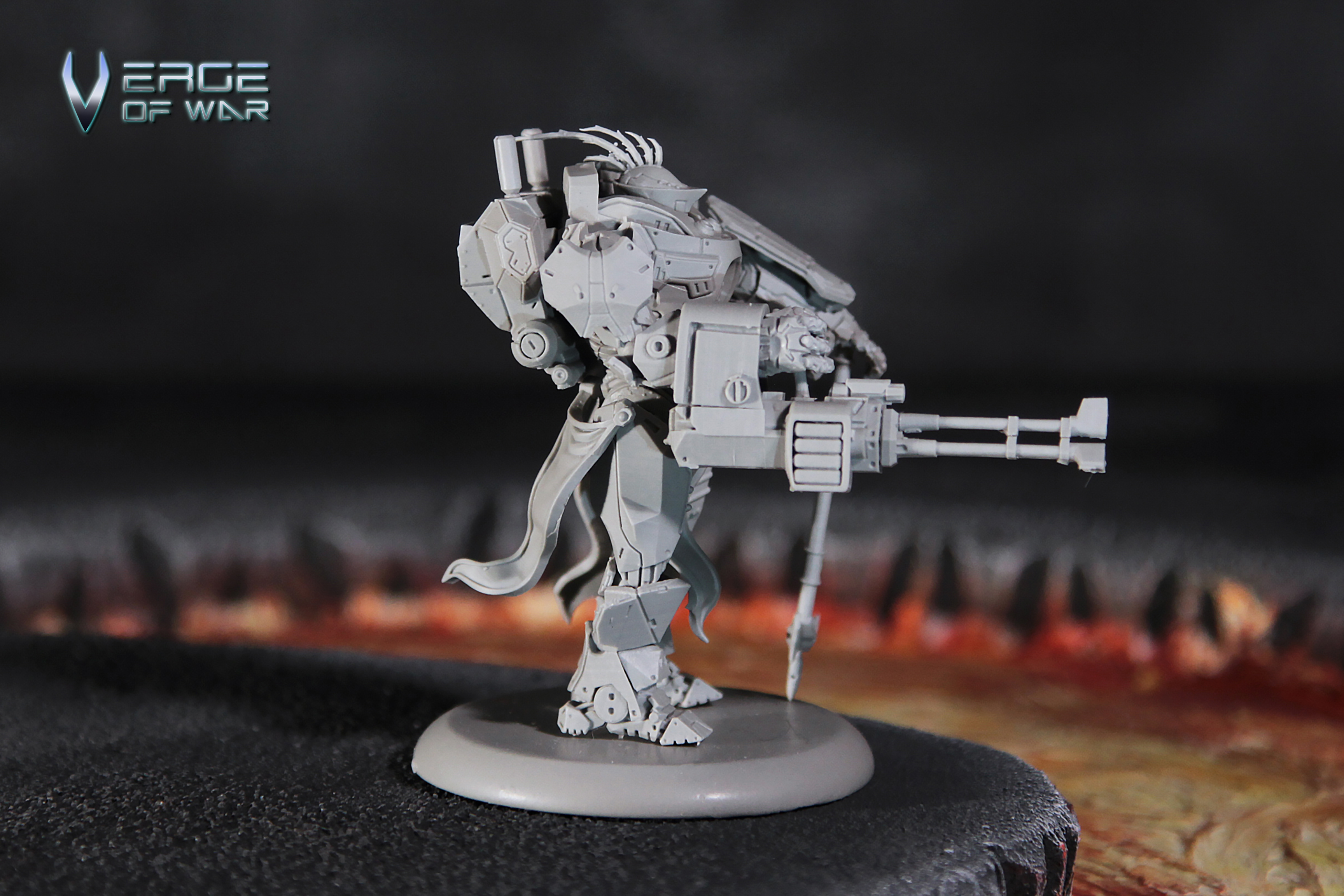 5. Plasma spike hammer – like its ancestor, the plasma spike hammer is used to fight heavily armored targets. A narrow "beak" with a high-intensity plasma field cuts through thickest armor and bunker walls like through butter. Where are different types of such a weapon like Plasma Hammer or Plasma hatchet, they are different in shape but same in use.
Seits: 2 Free pose Shork Tribal Warrior
This multi-part resin kit contains the components to assemble one Free pose Shork tribal warrior. This is an 82-component resin kit that allows you to create a 70mm tall miniature in any pose you can imagine with only glue and your imagination, and supplied with one 50mm round base and four weapon options.
Weapons of the Shorks are the hi-tech copy of the weapon used by Shorks in their homeworld, taken by the Seits and modified using advanced plasma technology:
Plasma talons – the most common weapon in the Shorks units. Used to fight against multiply enemies and also allows shork to parry blows.
Plasma tomahawks – used by Shork Berserkers one in each hand. With this weapon Shork can destroy any foe armored or not is he gets close enough.
Plasma sword – also called Hapesh was a weapon of the civilization totally annihilated by Seits – Alatri. Alatri was a proud nation, fought to the last living soul and so was destroyed. The Shorks was deeply impressed by the valor of the Alatri and take their weapons to honor the great warriors.
Plasma Glaive – weapon was only given to the best is Shork warrior society, as a Hapesh it was a weapon of Alatri. Glaive is a terrifying weapon, able to crush armor and kill smaller enemies by dozens in one swing, Shork Warlord with this weapon is one of the most dangerous fighters in the galaxy.
Pirates: 2 Shork Boatswain
This multi-part resin kit contains the components to assemble one Free pose Shork Boatswain – Pirates Bands.
Model height is 60 mm.
Main types of Shork Boatswain weapons: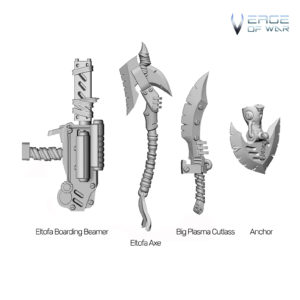 1. Eltofa Axe – Heavy and made from the unique Eltofian metal that can cut through armor, this axe is one of the favorites for the Shork Boatswains.
2. Boarding beamer – Once free from Seit mind control the Shork wants to shoot like the rest of the team, but since the accuracy of the Shork is low, the Rungar mechanics adapted the Kija beamer to work like a shotgun. The Boatswains just need to point the Beamer to the general direction of the enemy and pull the trigger.
3. Plasma cutlass – "The captain has a fancy sword so I want to have the fancy sword to, but it must be bigger, you got that?"(c) The first boatswain to wield the plasma cutlass.
4. "Anchor" – Rungar who created it called it "The mass infantry destruction device 3000" but for a pirates this was a to difficult name to remember so they just called it "Anchor" because of its weight and form.
Asgars: 2 Hecatoncheires
Hecatoncheires (Uhapty / Jotum) are the embodiment of Asgar fury. They are the spearhead of the strike force, the first line of defense and the first line during an assault. They are the primary combat unit of the Asgar army.
These 4-meters tall and heavily armored four-handed giants can handle any combat situation. They can carry additional gravity shields to protect their lord, powerful long-range cannons, missiles or devastating rapid-firing cannons to mow down infantry. Melee weapons of all sorts are also available for close-quarters combat.
Armament variants:
1. Grav Sword (one-handed).
2. Grav Shield (one-handed, a compact gravity field emitter)
3. Two-handed Grav Axe.
4. Grav Cannon (two-handed, a rapid-fire anti-infantry weapon).
5. Heavy Grav Cannon (two-handed, antitank weapon).
The upper pair of arms may be replaced with missile launchers.
Assembly Guide (printed version), 4 posters